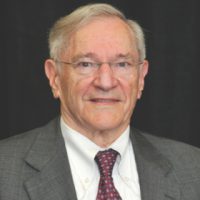 Dr. Robert J. Boldin
Professor, Department of Finance and Legal Studies
Ph.D. and M.A., University of Pennsylvania (Wharton)
M.B.A.., Duquesne University
B.S., University of Pittsburgh
Professor Boldin has extensive experience in teaching graduate and undergraduate courses in financial management. He co-chair's the Management Services Group at IUP, a program designed to provide comprehensive management and technical assistance to the small business community. He also serves as the director of the Indiana County Small Business Incubator. Before joining IUP, he was Assistant to the Treasurer at Carnegie-Mellon University, and held faculty positions at both Clarkson University and Franklin and Marshall College.
His current research is focused on emerging stock markets, banking, bankruptcy, and international finance. He has presented papers throughout the world at various international conferences. His articles have appeared in Financial Management, Review of Research in Banking and Finance, Financial Executive, The Bankers Magazine, New England Journal of Business and Economics, Journal of Economics and Finance, Financial Services Review, Midwest Review of Finance and Insurance, and Journal of Emerging Markets. He has received various research grants, has twice been named research associate for the College of Business and three times has been awarded a sabbatical based on strength of research proposal.
Dr. Boldin was invited by the World Bank to serve as lecturer and consultant to Northern Jiaotong University in Beijing. He has traveled to Slovenia, Croatia, and Serbia as a consultant for Brackenridge, Inc., a company that manages small business initiatives worldwide. He has done consulting work for Martin Marietta as well as numerous smaller firms and organizations. He has been a recipient of grants worth more than $500,000 relating to the operation of IUP's Small Business Incubator and other research projects.