What does your future hold?
An MBA in India, U.S. & beyond.
Global | Cutting Edge | Affordable
Bachelor's Degree in Business awarded by Indiana University of Pennsylvania (IUP), U.S.A.
IUP has been ranked among the top B-schools by Princeton Review every year since 2005
Classes taught by faculty with extensive business and industry experience from IUP & partner
universities worldwide
Accelerated full-time program with a 3-year completion offer because of efficient scheduling of
classes. Typically, a U.S. Bachelor's Degree takes 4 years. Students must maintain good academic
standing
Option of completing BBM as well as MBA in 4 years
Uniquely designed, well-rounded, undergraduate business education in India
Emphasis on leadership, entrepreneurship, and global networking opportunities
Option of Short Term Study Program (STSP) at partner universities worldwide
Students spend two years in Bangalore (75 credits) and the third year including entire summer, at IUP,
U.S.A. (45 credits)
Students can also spend one or more semesters at partner universities worldwide during the first two
years of the program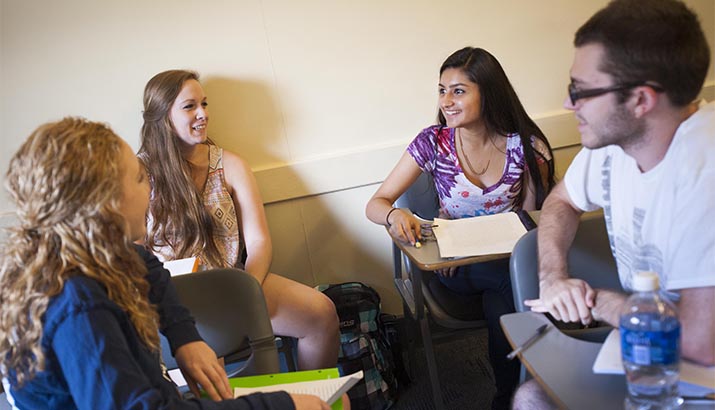 Students can transfer to IUP after one year if they maintain good academic standing and are willing
to pay higher tuition
Students currently pursuing bachelor's degree in any recognized institution may be eligible to
transfer into this program
Students are eligible for CPT/OPT/H1B visa in the U.S.
ELIGIBILITY
Prospective students with 10+2/Grade 12/A-Level/equivalent in any discipline and a SAT-I (Scholastic Aptitude Test) scores can apply. TOEFL/IELTS scores may be required for students from specific backgrounds. SAT & TOEFL can be taken during the first semester after obtaining Provisional Admission.
ADMISSION PROCEDURE
Students who have finished their grade 12/equivalent (any recognized system/board worldwide) as well as current students who are appearing/have appeared for Grade 12/equivalent
Mark sheets of Grade 10 & 10+2/Grade 12/A-Level/equivalent in any discipline
Official SAT-I (Scholastic Aptitude Test) score card TOEFL/IELTS score cards (Only if applicable)
SAT & TOEFL can be taken during the first semester after obtaining Provisional Admission
A one-page goal statement indicating your motivation for pursuing the PES-IUP BBA/BBM/BS program
4 recent passport size photographs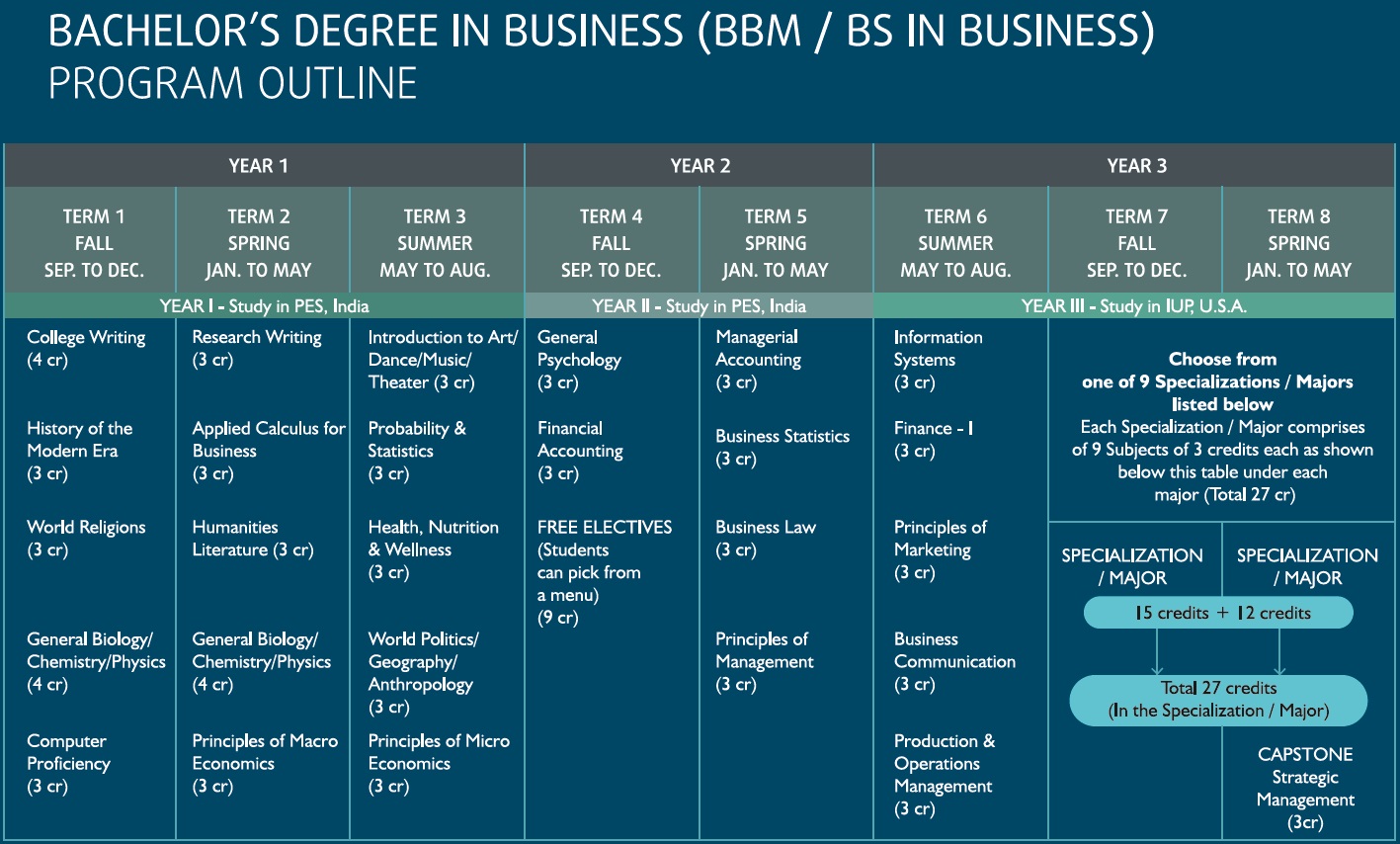 1. ACCOUNTING (27 cr)
Financial System Analysis
Intermediate Accounting – I
Intermediate Accounting – II
Cost Accounting
Advanced Accounting
Federal Tax
Auditing
Acct. For Govt. & Nonprofit Org.
International Accounting
2. FINANCE (27 cr)
Financial Analysis using e-spreadsheets
Corporate Finance
Principles of Investments
Insurance and Risk Management
Financial Institutions and Markets
International Finance Management
Financial Derivatives
Special Topics in Finance
Seminar in Finance
3. GENERAL MANAGEMENT (27 cr)
Managerial Economics
Human Resource Management
Human Behavior in Organizations
Quality Management
International Management
Managerial Accounting
Introduction to Entrepreneurship
Supply Chain Management
Seminar in Management
4. HUMAN RESOURCE MANAGEMENT (27 cr)
Labor Economics
Human Resource Management
Organizational Staffing
Compensation Management
Training & Development
Collective Bargaining
Human Behavior in Organization
Comparative Management
Seminar in Human Resource Management
5. INTERNATIONAL BUSINESS (27 cr)
International Economics
International Business
International Competitiveness
Comparative Management
Quality Management
Seminar in International Business
* Choose any one of the following functional areas:
* FINANCE
Principles of Investments
Financial Institutions & Markets
International Finance
* HUMAN RESOURCE MANAGEMENT
Human Resource Management
Compensation Management
Training & Development
* MARKETING
Consumer Behavior
Marketing Research
International Marketing
6. MANAGEMENT INFORMATION SYSTEMS (27 cr)
Introduction to Front-End Business Applications
Introduction to Back-End Business Applications
Business Systems Technology
LAN Design & Installation
Database Theory & Practice
Analysis & Logical Design
Project Management & Implementation
Choose any two courses from the following areas:

Networks & Cyber Security
Software Development
Database & Decision Support
Special Topics, Internships and Seminars
7. OPERATIONS / SUPPLY CHAIN MANAGEMENT
(27 cr)
MANAGEMENT (27 cr)
Cost Accounting
Human Resource Management
Quality Management
Introduction to Supply Chain Management
Managerial Economics
Marketing Logistics
International Business
Management Science / Operations Research
Seminar in Operations
8. ENTREPRENEURSHIP & SMALL BUSINESS
Managerial Accounting
Introduction to Entrepreneurship
Small Business Management
Small Business Planning
Organizational Launch & New Venture Development
Organizational Entrepreneurship
Franchising
Small Business Internship (6 cr)
9. MARKETING (27 cr)
Consumer Behavior
Marketing Management
Marketing Research
Advertising
International Marketing
Internet Marketing
Export Marketing
Direct Marketing
Seminar in Marketing