Use the Most Advanced Technologies in your Studies
EBERLY COLLEGE OFFERS MANY FEATURES IN AND OUT OF THE CLASSROOM THAT MAKE IT ONE OF THE MOST TECHNOLOGICALLY ADVANCED BUSINESS SCHOOLS IN THE COUNTRY. STUDENTS CAN TAKE ADVANTAGES OF THE FOLLOWING: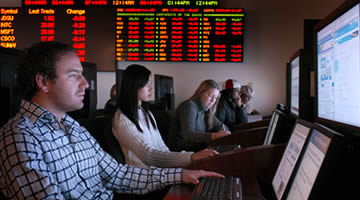 FINANCIAL TRADING ROOM
This room allows students to create hypothetical portfolios, track all purchases and sales to gauge performance, and document trading strategies and databases. The room can also be used for market research and tax preparation.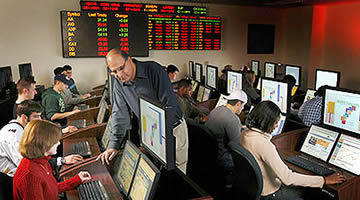 BLOOMBERG LAB
The Eberly College holds a license for twelve Bloomberg terminals. A critical and common business tool, the Bloomberg terminal provides students with training in financial and investment analysis, bank and corporate management, and personal finance. Bloomberg provides specialized certifications for the various analytical packages available under the Bloomberg license. These certifications are widely respected by financial institutions and industrial corporations. Bloomberg certification requirements are integrated into most Finance major courses.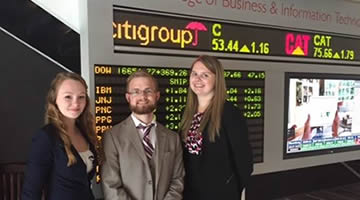 STUDENT MANAGED INVESTMENT PORTFOLIO
Many business schools offer their students experience with formal investing by using scrip money or simulation, but that's not how IUP students learn about the world of finance. The Student Managed Investment Portfolio project affords students real money-fronted by the Foundation of IUP-for real investing. The SMIP membership, consisting of Finance, Accounting, and Economics majors, is chosen by the faculty and has a minimum grade-point average of 3.0. In addition to the portfolio manager, a student team leader and lead analyst oversee the balance of the team.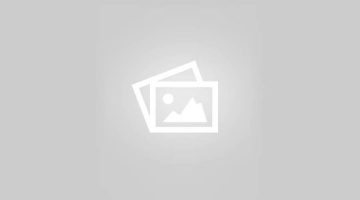 CONSUMER NEUROSCIENCE RESEARCH LAB
Eberly College is one of very few business schools in the country with a neuromarketing lab. It houses an advanced research lab, in which specialized equipment is used to measure brainwaves and track eye movement. Data gathered in the lab is utilized in consumer behavior research.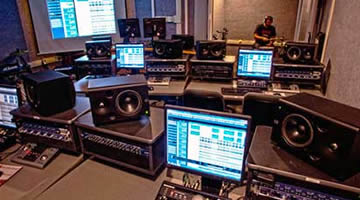 DIGITAL PRODUCTION STUDIO
In our Digital Production studio, faculty members and students use video editing software and hardware coupled with green screen technology to prerecord course content, create projects, and film video resumes. Students are even able to sign out some of the equipment, such as video and digital cameras, for class projects.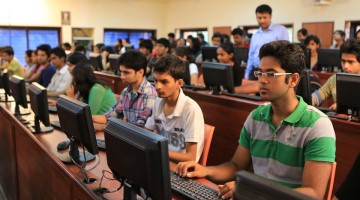 COMPUTER LABS
Eberly College's seven computer labs allow faculty members to incorporate hands-on learning inside the classroom. Each lab features a unique configuration that best accommodates the type of courses taught in the labs. The public computer lab is open late into the night, benefiting students working on projects and exams.
Our Premier Facilities Enhance your Experience
THE EBERLY COLLEGE OF BUSINESS AND INFORMATION TECHNOLOGY IS A BEAUTIFUL FACILITY THAT ENHANCES THE LEARNING ENVIRONMENT FOR STUDENTS. FEATURES INCLUDE THE FOLLOWING: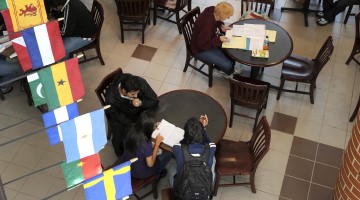 MULTILEVEL ATRIUM
The two-story Serafini Atrium, named after IUP alumnus Terry Serafini, is a spacious and comfortable study option for students. Bathed in light from picture windows overlooking the lower campus, the atrium gives students a place to work together, study alone, or simply take a break between classes.
EBERLY BUSINESS HALL OF DISTINCTION
Located in the Serafini Atrium, the Eberly Business Hall of Distinction recognizes the professional success and good citizenship of Eberly College graduates and others associated with the advancement of the Eberly College. The story biographical descriptions under the photographs of our honorees demonstrate the value of an IUP education to students' future success.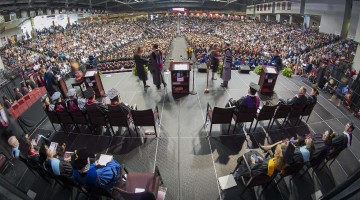 AUDITORIUM
Our newly renovated auditorium seats 450 and is equipped with the latest technology, including three high-definition screens and surround sound. It is one of the largest auditoriums on campus and is frequently used by other IUP colleges for classes and conferences.
BOARD ROOM
Up to twenty-four people can be seated at the large, oval Board Room conference table for meetings, presentations, and teleconferences. Additional seating is available around the room. The board Room is available to all students and faculty members and is regularly used by student organizations and other campus groups.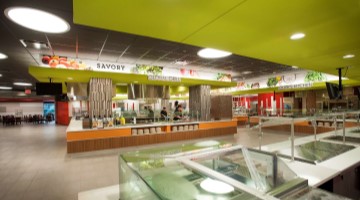 EBERLY CAFE
The Eberly Cafe is the only cafe in an academic building on campus. Fuel up before or after class with your choice of hot soups, sandwiches, coffee, soft drinks, wraps, salads, and baked goods.