The Total Student Development Program (TSDP), backpack to briefcase workshops, international symposiums, and many more well-designed activities assure that we graduate well-rounded business professionals with global exposure and industry-readiness in both India and the U.S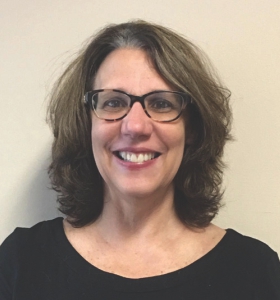 "The Eberly College Corporate Relations and Internship Department focuses on helping our IUP-India students from PES prepare American-style resumes and practice networking and interviewing skills. We work closely with potential employers, business partners, and our alumni to constantly enhance internship and job opportunities for our students."
Dr. Cynthia Strittmatter, Associate Dean and Director of Eberly
Corporate Relations
BUSINESS ADVISORY COUNCIL
The Business Advisory Council comprises of prominent business leaders. Every semester, the Council meets with students and faculty members of the Eberly College to offer information to the current business environment and to advice students on how best to prepare for the workplace.
BUSINESS DAY
Eberly holds The Business Day every year in the spring. It is held in the Kovalchick Convention and Athletic Complex, a state-of-the-art facility located next to Eberly. The day begins with the opportunity for students to attend panel discussions with business leaders and distinguished alumni and is followed by an open networking session and luncheon. Business Day allows students to meet alumni and executives to network for possible internship and career opportunities.
CONNECTING WITH THE ALUMNI NETWORK
Students have the opportunities to attend many networking events with alumni throughout the year in which alumni often give presentations and lead career sessions for the students. There are even opportunities for students to attend alumini networking sessions in major cities, such as New York, Washington D.C., Philadelphia, Los Angeles, Dallas, Atlanta, and Pittsburgh.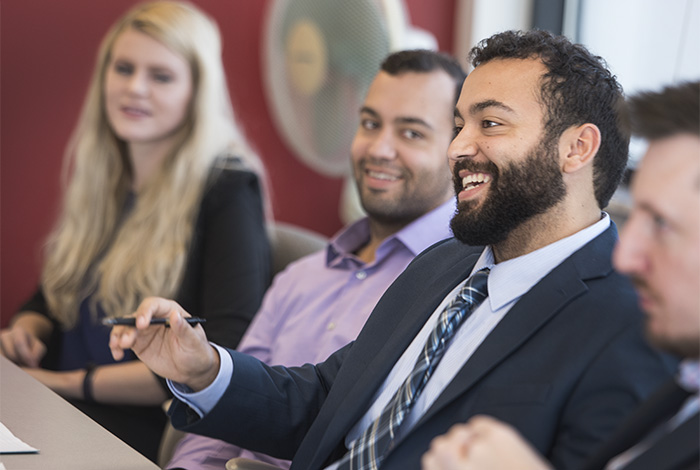 "I don't know if it is possible to put in words the sense of gratitude I feel. PES-IUP MBA program has definitely played an important part in my career path. The infinite amount of work and support that the faculty members are willing to offer for the betterment of students is beyond words. Thank you, IUP, you have inspired me to achieve at a level higher than I ever thought possible."
Rashmi Veerabhadraiah
Business Intelligence Analyst - EAB, Washington, D.C., U.S.A.

"I would like to thank IUP for letting me pursue my dream in the field of accounting. I truly appreciate the role of my professors at IUP who brought positive change in my career. Studying at IUP was the stepping stone towards achieving my dreams!"
Chandana Surugihalli
P&P Accountants & Tax Consultants, Edison, U.S.A.

"This was the only U.S. MBA program that used personal interviews and group discussions instead of TOEFL/IELTS exams for admissions! In my research, this was the least expensive option for an U.S. MBA degree, not only the affordable tuition but also the lower living expenses in India during the first year."
Vinod Karnati
3M, Minneapolis, U.S.A.

"The PES-IUP program is one of best things that has happened to me! It is so well articulated with extremely supportive professors that it has helped me achieve my dream of studying and working in the U.S. Being a Techie with an MBA degree provides exposure and an added advantage in the IT industry among my peers."
Laxmi Nallabothula
Bluejeans Network, California, U.S.A.

"This program gave me a solid background in Marketing, Finance, Operations, and Strategic Management as well as exposure to business environment in both India and the U.S. This has helped me elevate my ideas to successful entrepreneurial ventures."
Yeshwanth Sunku
Entrepreneur - Womans World, Kalanikethan, Hyderabad & Chennai

"The collaboration between PES and IUP is very unique. This MBA has the extraordinary capability to enable students to learn from American faculty and expose them to American culture right from India and subsequently in the US. This makes the course economical yet very effective. IUP is a prestigious university and has students from across the globe making it is perfect place to receive a true global exposure. The IUP MBA has surely helped me shape my career with confidence."
Abitha Amruth
Relationship Manager - LinkedIn, Bangalore

"I learned the key aspects of supply chain management because of the high quality of the faculty and the case studies they used. The program nurtured an interactive culture where students and faculty were allowed to interact freely and share their opinions with each other. The exposure to the American culture helped me land a good position at the Distribution Center of one of the biggest eyewear companies in the world."
Siddhanth Prasad
Lead Business Systems Analyst - Luxottica Retail, Atlanta, U.S.A.

" A well structured program which gave me great education and exposure to business practices around the world."
Vinayak Shenoy
A.T. Kearney. Inc., Australia (Present)

" The state-of-the-art facilities at IUP and the curriculum helped bringing out the best in me. Creativity is cherished and fostered; we were always encouraged to think out of the box."
Kanishka Jain
BMW of North-America, South Carolina, U.S.A.

" I am from Navsari, a small town in Gujarat. This program has helped me realize my dreams of studying in a big city like Bangalore and working in the U.S. I was able to utilize my undergraduate technical background with an MBA in information systems to secure a solid career in the IT industry in the U.S, the land of opportunities. Lucky to live the American Dream!'"
Dhaval Raju
Deloitte, Pennsylvania, U.S.A.

" I am a Brazilian who studied in the IUP-India program in Bangalore and then at the IUP, U.S.A. and I am currently a professional working in the supply chain industry in Brazil. Thanks to this unique global program, I not only accomplished my professional goal but also gained many friends in life."
Thaiz Batista
Expro Group, Rio de Janeiro, Brazil

" The IUP-PES program presented me with an opportunity to turn my passion into concrete abilities and to not only acquire a solid foundational knowledge in finance but also its pragmatic aspects."
Leena Jain
PwC, Geneva, Switzerland (Present)

"The education, exposure & unique opportunities from the program provided me a broader perspective of life and shaped me into the person and professional I am today. My time at IUP has enriched my life in many ways. It provided me the necessary tools to enhance my skills and made me well-rounded as a person"
Shilpa Sundaram
Juniper Networks, California, U.S.A. (Present)

" The opportunity to meet such a diverse group of students and faculty was priceless. One of my proudest moments in the program was when I was selected to be a part of the student team that manages Rs. 2,50,000 investment portfolio, part of IUP's foundation. "
Tanveer Ahmed
CEO, Mitra Academy, India (Present)

This being my major agenda, I am pursuing my internship at Ripples Learning. The company majorly focus on CHRM i.e., certified human resources manager, L&D, sales and corporate training workshops. Currently, I am working on a project called HR Toolkit, wherein I am conducting a research which will help the organization to retrieve data and build the toolkit. It has been a great experience to work with the company

Karan Soorsen
Internship at Ripples
As part of the PES IUP MBA curriculum, I completed my internship with Concorde Group which spe-cializes in real estate projects. My project was "Product launch and follow up strategies." During my internship, I worked on marketing, sales and CRM & engaged in various marketing activities such as ATL, BTL, digital marketing, and public relations. My internship experience was very helpful and I could correlate my classroom knowledge which was taught by the U.S professors and to implement the same practically. It was a great learning experience to complete an internship with Concord Group which enhanced my knowledge and experience to a great extent

Subrahmanya Siva Prasad Tadi
Internship at Concorde Group
As part of the PES IUP MBA Curriculum, I completed an internship at BOSCH's Purchasing Department. I gained valuable industry insights and was able to apply my theoretical knowledge which I gained from the Operations Management and other MBA courses. The projects undertaken by me were related to automation of processes and working with startups. It was an incredible learning experience.

Akanksha Paramesh Kumar
Internship at BOSCH
I am Roushni Krishna Murthy interning in Schneider Electric. I am  gaining practical experience in the field of Finance. My day to day responsibilities are analyzing and costing of financial reports. Working as interns at Schneider has helped for gain hands on experience in growing field of finance and supply chain management

Roushni Krishna Murthy
Analyzing and Costing of Financial
I am Nishanth Venkatesh interning in Schneider Electric, gaining practical knowledge and experience in the field of finance, roles and responsibilities assigned to me are Analysis and Costing, assisting with audits. Working as interns at Schneider has helped for gain hands on experience in growing field of finance and supply chain management

Nishanth Venkatesh
Analysis and Costing, assisting with audits.