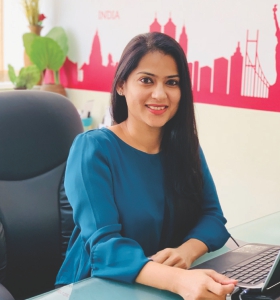 Associate Director,
PESIT South Campus, Pixel Park B 11th floor
Bangalore
Karnataka
India
divya@iup.edu
Telephone: 080-66186402/403, +91 8453536991
"I am grateful to IUP for giving me a unique and global management education and subsequently to have given me the opportunity to grow professionally while leading the program in India!"
The experience in college stays with a person throughout their life, and IUP and the Eberly College have left no stone unturned to make this experience the best possible. Especially for me, IUP has given so much; I was truly amazed with the faculty, the pedagogy, grading, and the entire format of the IUP India MBA program. Everything is so transparent, and each faculty member is so down-to-earth and goes "miles beyond" to help the students accomplish their educational and professional goals!
I am Divyashree Ravishankar, the Associate Director of the IUP-India MBA Program with PES University. I am also an alumna of the program. I grew up in a town called Mandya, which is 60 miles from Bangalore. I finished my schooling as well as my undergraduate degree in computer science and engineering in my hometown. Staying with my parents throughout that time helped me develop strong values, ethics, and principles. Right from my childhood, I was made to realize the importance of hard work, and I believe that there is no substitute for that.
It took me four years of engineering school to discover that my true interest was in business! My technical background placed me in a good position to pursue a career in areas like project management; but I wanted to secure well-rounded management education and establish a career where I could leverage my skills in both technical and management fields. That is when I decided to pursue my Master's in Business Administration in the unique IUP India MBA program in partnership with the highly reputed Peoples Education Society (PES) University, Bangalore. PES is a premier educational institution in the state of Karnataka. This collaborative program provides an excellent opportunity for students to enhance their careers by helping them gain knowledge and skills in various aspects of business management while providing a truly global exposure. The program incorporates a unique modular design and a combination of lecture sessions and industry interactions. I was always curious about the U.S. education system, which focuses on hands-on learning. It goes a long way in equipping a student with the skills needed to succeed in today's hyper-competitive business world.
Right from the first day of my MBA program, I was actively involved in all co-curricular activities: participation in discussions as a student to gaining cross-cultural exposure to heading an event in the international management competitions on the PES campus during my first year of the MBA program. These experiences enhanced my confidence level and I started believing in my abilities to scale greater heights. I studied in IUP for my second year and pursued my specialization in Marketing.
During my specialization at IUP, I worked as a graduate assistant for the Director of the IUP-India MBA Program who was also the Eberly College's Dean's Associate. This was my first real job, and I was very much excited about it. I was assisting him in the rigorous documentation for IUP's AACSB accreditation maintenance, as well as in a number of process improvement projects for my India MBA program that he directed. During that semester, I was one of the leading organizers of India Day—a ticketed event which is held annually each Fall on the IUP campus. I was not only one of the coordinators of the program, but also participated in Indian cultural performances, which was appreciated by everyone as one of the outstanding performances in years. I also had the opportunity to attend the IUP alumni event at the Waldorf Hotel in New York City. I also helped organize a field trip for our cohort of 50 students to Washington, D.C. to learn about the rich U.S. history and political process. I had the most comprehensive experience at IUP.
After completing my Marketing specialization, I worked as a marketing intern in a company called Upwardly Mobile (UpMo) in San Jose, California. UpMo was a startup company which gave me an opportunity to gain experience in all aspects of their business. The responsibilities which I handled at UpMo complemented my specialization. My key responsibilities involved assistance in market research, advertising and promotion, and managing a CRM database. Working with the top management helped me acquire the skills, techniques, and etiquette required to succeed in any organization.
I was honored to be the first Indian student selected at IUP (and the only one until now) to have a life-sized photograph in the Eberly College as part of the Eberly Student Gallery which honors students who have demonstrated good academic, extracurricular, and leadership qualities.
Upon graduation, I got an offer to take up a job as the program manager for the IUP India Program with PES, the very program from which I graduated. I jumped on this opportunity to not only manage a program that I was passionate about but also to return to my home country. I thoroughly enjoy working for PES and IUP. I have now entered my 7th year and as the Associate Director of the program, I am responsible for all aspects of the program in India including promotion, admissions, operations, academic infrastructure, academic advising, corporate relations, and placement. The job continues to keep me motivated since it brings new opportunities and challenges every day. I have been working closely with a wide range of stakeholders including the top management of both IUP and PES, experienced faculty, young students, and seasoned industry professionals. This has helped me grow professionally and as a well-rounded individual. I have streamlined several key processes for this unique global program to run smoothly. I am the managing editor of the Program's newsletter VOICE, which I resurrected to strengthen the bond between our alumni and current students.
Since 2012, the Director of the program and I have been responsible for planning and executing two highly unique global and cross-cultural programs–the Euro Symposium and the Discover India programs. The annual summer symposium in Europe to countries such as Germany, France, Switzerland, Belgium, and the Netherlands has involved hundreds of students. The students visit leading organizations in Europe, listen to eminent speakers, experience cultural programs, and visit historical and popular sites. Discover India is a short-term winter program which involve visits to leading multinational companies, a symposium of expert speakers, a panel discussion, meeting with alumni, and visits to historical sites in India. Today, this is one of the highly sought after programs at IUP, USA as well as with partner universities in Germany, Norway, Peru, Poland, etc. All this international travel and experience working with students, faculty, and industry professionals from over a dozen countries has helped me become a "global citizen." I also work closely with the staff at the Pennsylvania senators' office as well as various consulates to assure 100% visa success for our students traveling to the U.S. and Europe. I have also had the experience of presenting co-authored papers in international conferences on two continents and have played a key role in conducting competitive business quiz competitions at the college level.
I am proud to have been closely involved in eight of the twelve annual cohorts of this longest standing partnership program in India which has nearly 1,000 alumni spread over all six continents and all major regions of the world. Many are successful entrepreneurs and we have scores of successful alumni in every major industry sector. I look forward to helping the students & alumni of the IUP PES collaborative MBA Program while endeavoring to making it the most sought after program in the country!