SUMMER PROGRAM IN U.S.
LEARNING, EXPOSURE & FUN – A UNIQUE OPPORTUNITY FOR SHORT-TERM SUMMER STUDY ABROAD IN THE U.S. TO EXPLORE LONG-TERM OPTIONS!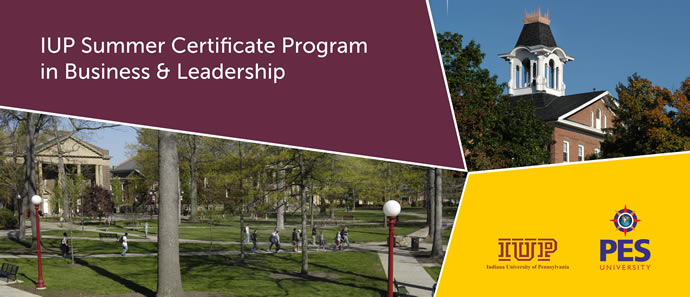 IUP Summer Certificate Program in Business & Leadership Summer Program at Indiana University of Pennsylvania (IUP) June – July, 2018
IUP HAS PARTNERED WITH PES TO ORGANIZE SHORT-TERM SUMMER CERTIFICATE PROGRAMS FOR STUDENTS FROM INDIA. THE STUDENTS WILL ATTEND NEARLY A DOZEN WORKSHOPS IN BUSINESS AREAS SUCH AS INVESTMENT PLANNING, PROJECT MANAGEMENT, SUPPLY CHAIN MANAGEMENT, CUSTOMER RELATIONSHIP MANAGEMENT, E-COMMERCE, SMALL BUSINESS PLANNING, DATABASE MANAGEMENT, ETC. THE WORKSHOPS WILL BE TAUGHT BY INDUSTRY EXPERTS AND BY FACULTY WITH DOCTORAL DEGREES AND EXTENSIVE INDUSTRY EXPERIENCE. IN ADDITION, THE STUDENTS WILL VISIT COMPANIES IN INDUSTRIES SUCH AS MANUFACTURING, RETAIL/WHOLESALE, FINANCIAL, AND HEALTHCARE SECTORS. STUDENTS WILL ALSO HAVE THE FUN OF VISITING WORLD-FAMOUS SITES IN NIAGARA FALLS, NEW YORK, WASHINGTON, D.C., AND PITTSBURGH. STUDENTS WILL PARTICIPATE IN SPECIAL EVENTS ON JULY 4, THE AMERICAN INDEPENDENCE DAY!
Besides exposure to a multicultural environment, the students can look forward to:
Interactive classes, accessible instructors, and a diverse student body
Building connections with peers from around the world
Attending speaking events, academic round-tables, and trips
Students who successfully complete all requirements will receive 6 PES University credits and a non-credit Certificate in Management from IUP.
PROGRAM HIGHLIGHTS
Stay at IUP campus in superior housing facilities.
Eberly College of Business & IT will conduct seminars/workshops on management & leadership skills.
Workshops will be conducted by industry experts and management faculty with extensive industry experience.
Students will visit companies in sectors such as manufacturing, retail / wholesale, financial, and healthcare sectors.
Students will experience the fun of visiting world famous sites in Niagara Falls, Washington, D.C. and Pittsburgh.
Students will participate in special events during July 4th, the American Independence Day.
Students will have opportunities to explore prospects for higher studies and business ventures in the U.S.
Payment to be done through Demand Draft only to "PESIUP Program" payable at Bangalore
INCLUDES
Program tuition & certification
Accommodation
Meals
Airfare
Insurance
Visa counseling
Visa fees
Sight-seeing
Group airport transfer in the U.S.
TENTATIVE SCHEDULE FOR IUP SUMMER CERTIFICATE PROGRAM IN BUSINESS & LEADERSHIP
EBERLY COLLEGE OF BUSINESS AND IT, PA, U.S.A.
JUNE 14 TO JULY 14, 2019
| | | |
| --- | --- | --- |
| 1 & 2 | Arrival | Airport Pickup at Pittsburgh |
| 3 | Orientation | Briefing on campus life, discipline, conduct and safety. |
| 4 | Workshop 1 | Select topic in Business & Leadership |
| 5 | Company Visit 1 | |
| 6 | Sightseeing Trip | Visit to Pittsburg |
| 7 | Personal time | Campus – Sports / Cultural activity |
| 8 | Workshop 2 | Select topic in Business & Leadership |
| 9 | Workshop 3 | Select topic in Business & Leadership |
| 10 | Company Visit 2 | |
| 11 | Workshop 4 | Select topic in Business & Leadership |
| 12 | Shopping Tour | Grove City Premium Outlets |
| 13 | Sightseeing Trip | To Niagara Falls |
| 14 | Personal time | Campus – Sports / Cultural activity. |
| 15 | Workshop 5 | Select topic in Business & Leadership |
| 16 | Workshop 6 | Select topic in Business & Leadership |
| 17 | Company Visit 3 | |
| 18 | Workshop 7 | Select topic in Business & Leadership |
| 19 | Local Shopping | Visiting Indiana County |
| 20 | Sightseeing Trip | Visit To Washington D.C. |
| 21 | Personal time | Campus – Sports / Cultural activity |
| 22 | Workshop 8 | Select topic in Business & Leadership |
| 23 | Workshop 9 | Select topic in Business & Leadership |
| 24 | Presentations | Group Presentations |
| 25 | Certificate Distribution | Farewell Dinner |
| 26 | Open | Personal trip / shopping. |
| 27 & 28 | Departure | Airport Drop at Pittsburgh |
FOR MORE INFORMATION CONTACT
Ms. Divyashree Ravishankar
Associate Director
PES-IUP Management Programs, India
Email: divya@iup.edu
Phone: +91 8453536991
080 66186402 & 080 66186403
Dr. Prashanth Bharadwaj
Dean's Associate
Eberly College of Business and IT, U.S.A.
Email: pnb@iup.edu