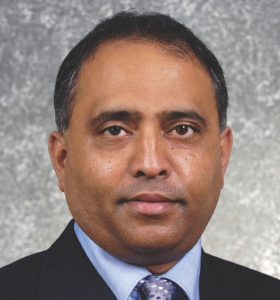 PROGRAM DIRECTOR'S MESSAGE
---
Dr. Prashanth N. Bharadwaj
DEAN'S ASSOCIATE
IUP has been offering its MBA program for several decades in the U.S. and has attracted students from every significant region of the world, including India. I am pleased that we have been able to offer the same MBA degree on the campus of PES, Bangalore, India since 2005 with the help of full-time Ph.D. faculty form IUP. The faculty members have excellent teaching, scholarly and industry credentials. This program is designed to provide students a rigorous MBA program from an AACSB-accredited U.S. business school.
Students have the option of completing their MBA in Bangalore or finishing the specialization courses on IUP's main campus in Indiana, PA. Nearly 99% of the over 500 students who have applied have secured their U.S. visas. It is heartening to see that many of the alumni have established successful careers in leading organizations in the U.S. as well as India.
The diversity of the classroom in this program is unparalleled in the Indian context–faculty with origins and experiences from every major region of the world and exchanges students from the U.S.,
Germany, France, Taiwan and other parts of Europe and Asia. The student body in the Bangalore program itself is growing diversely with students from several counties of Asia. Middle East and Africa. The program has created a truly global learning environment for students.
Students will get assistance in seeking internships and job placements both in India and in the U.S. Additional benefits include state-of-the-art instructional facilities both at PES and at IUP, significant cost savings(both tuition and living/hostel), very knowledgeable and student-friendly advisors in Bangalore as well as in the U.S.
In 2015, we are excited about starting the inaugural batch of the BBM/BS in Business program on PES campus in Bangalore.