Eberly College's Bharadwaj Shares International Travel and Zoom Classroom Experience During COVID-19 Outbreak
Posted by

Categories

News

Date

June 18, 2020
This story, written by Prashanth Bharadwaj, professor in the Department of Management, outlines his experience while traveling internationally during the cusp of the COVID-19 outbreak and returning to his Zoom classroom at IUP.
COVID-19: The Second Half of Spring 2020
I was on a 12-day official trip to Bangalore, India, over spring break as part of my job managing IUP's off-shore MBA and PhD programs in India and the West Bank, which have produced nearly 1,500 IUP alumni in the last 15 years. I have been doing this trip during spring break almost every year since 2003, but this year's trip turned out to be the most eventful one!
I traveled from Pittsburgh to Bangalore via London on March 8. Within 48 hours after I landed, I conducted a couple of promotional open houses that were well-attended. When I left Indiana, Pennsylvania, for India, there was a lot of discussion about COVID-19 in the US and in India, but my travel was uneventful; the dramatic travel restrictions that were soon going to be announced were nowhere on the horizon. On March 11, the WHO declared the COVID-19 outbreak to be a global pandemic, and in the early morning hours of Thursday, March 12, I learned that both India and the US announced major travel restrictions starting the very next evening.
When I saw the news about the unprecedented travel restrictions, I decided to return to home-base in Indiana, Pennsylvania, immediately. I tried in vain for hours all night to get British Airways on the phone. But, thanks to our colleague and our alumna Divyashree Ravishankar in India and her travel agency contacts, I was able to get my ticket changed, and in less than 24 hours I was on the long journey back to Indiana.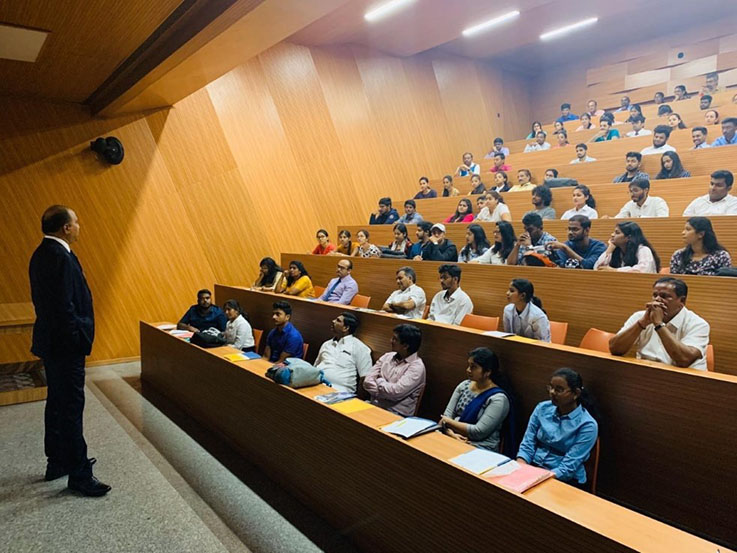 Prashanth Bharadwaj speaking to a packed classroom of prospective MBA students and family members during an Open House at PES University, Bangalore.
The two trips, Pittsburgh to Bangalore and Bangalore to Pittsburgh less than a week apart, were like night and day! The usually buzzing airport in Bangalore had less than 20 percent traffic. Porters to retail employees to airline workers had melancholic faces as they knew what was going to happen to their jobs in the short-term.
The plane from Bangalore to London was emptier than I had ever seen on that segment; but the one from London to Pittsburgh was packed since it was like exodus from Europe to the US since the travel restrictions were taking into effect that night. Thankfully, my trip on that Friday the 13th went smoothly for me. I know of friends who returned from overseas trips just 24 hours later with horror stories of getting stuck for hours in immigration and health checks in airports in India and the US.
By the time I reached home, I knew that IUP was going online! I decided to go into a two-week self-quarantine and socially distance from everyone right before those terms became part of everyone's lexicon, including my dad's non-English speaking house-help in India.
At the time of writing this, India is in the sixth week of on an unthinkable national lockdown, and the majority of US citizens have varying degrees of stay-at-home orders. The global economy has been on a dizzy tailspin. The race to find a cure and a vaccine for the virus is going on at a feverish pace, and so is the circulation of stories and conspiracy theories about the origins and the spread of the pandemic!
Back at IUP, over the weekend after I hastily returned from India, I was determined to do my best to replicate what happened in my live classes for the rest of the semester. In addition to team-teaching a PhD class this semester, I teach an auditorium section of undergraduate Operations Management (MGMT 330) with nearly 100 students in it. I wanted to not only give the students their money's worth, but also provide them an opportunity to socialize while being quarantined in their respective abodes. In addition to the health and economic impacts of COVID-19, the onus of social isolation and the uncertainty of the future can have a significant impact on most individuals.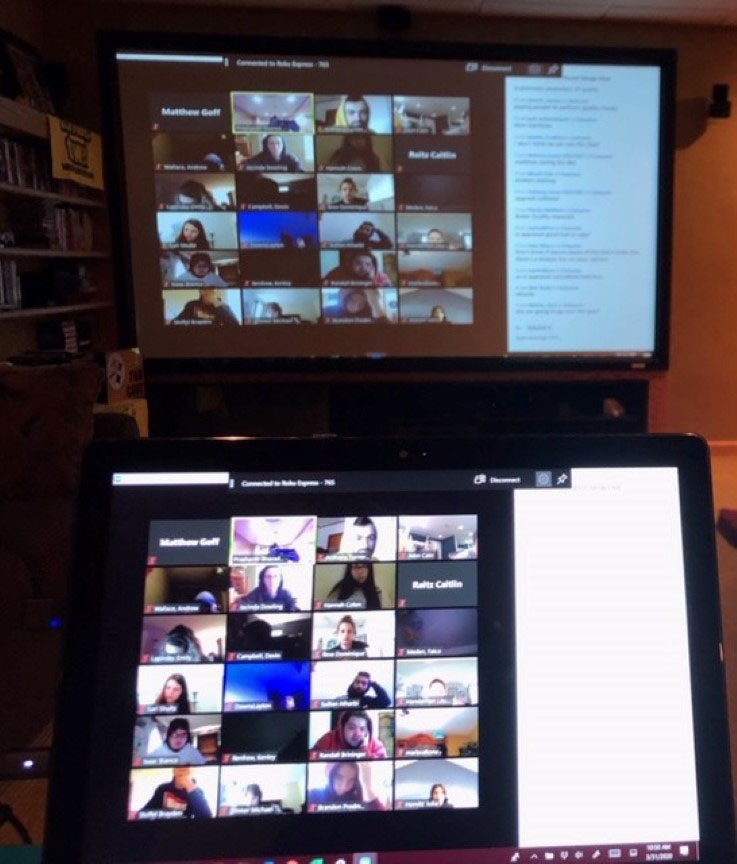 Coming to class regularly would give the students an opportunity to be closer to the routine they have been used to, with less time to focus on the negative news all around us. I uploaded onto D2L all my lecture notes and recorded lectures that I had prepared when I have taught this class online.
I quickly got myself adept at using Zoom and most of its features. Thanks to colleagues like Veronica Paz, who have taken the effort to compile short Zoom tutorials, it was possible to pick up the nuances of Zoom quite easily.
Over the last two decades, hundreds of my students have been in my basement home theater to watch the Steelers, the Super Bowl, cricket games, and movies. I quickly turned that setup into my new office and classroom. I started using two laptops and my giant screen to teach my class on Zoom at the regularly scheduled times.
On one laptop, I have my PowerPoint/Excel/Whiteboard or whatever I am using for my lecture and discussions. I share my handouts with the class ahead of time and re-share them, as appropriate, during the class.
On the second laptop, I can see the chat bar in Zoom, and on the giant screen, I have pics of students—25 at a time, and I can scroll to see the rest of the class. I could have more students on each screen, but that would make the pics very small to recognize the students.
I have required all students to use their official names for their Zoom ID, and everyone is required to have their videos on so that everyone can see each other (unless they convinced me that their laptops do not have that capability). Some have virtual backgrounds of beaches or their favorite places. They have their audios on mute, and unmute to ask questions or answer my questions. Yes, I call on students randomly to answer questions or comment on a topic.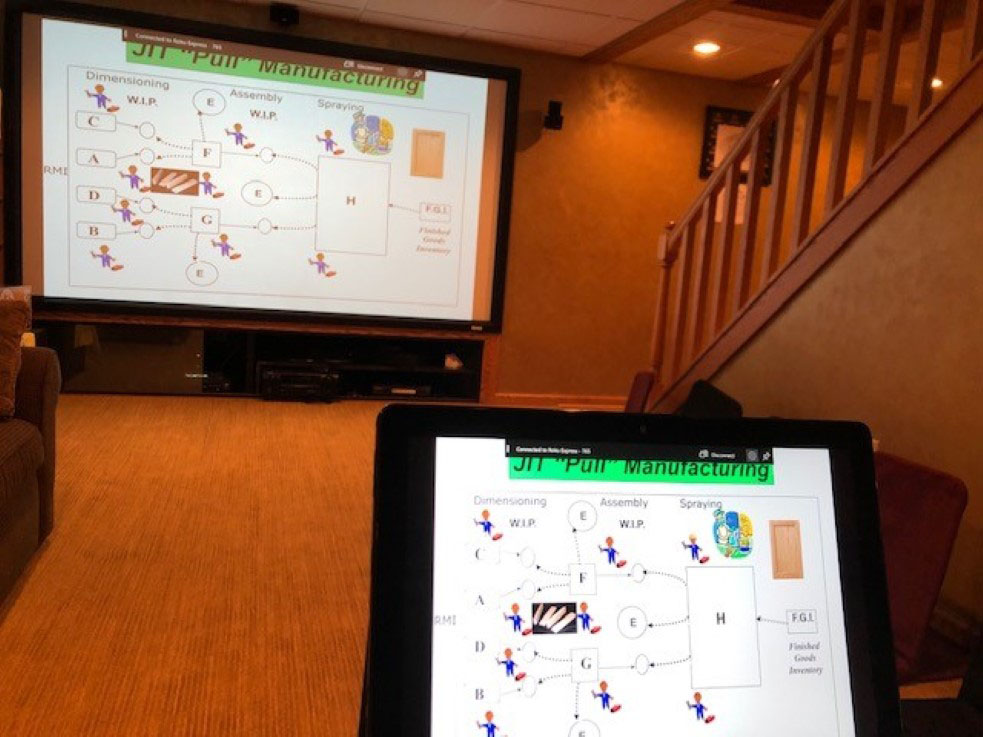 Students have been very active in discussions, both orally and on chat. I have not seen any difference in interaction during regular class and the Zoom class. In fact, some students have been more active because of the chat feature. I have my GA log in to class, and she monitors the participation while Zoom automatically provides a report on attendance and tardiness, if any. Zoom also provides an "Attentiveness score," but I would not rely on it since I question its accuracy.
Zoom also provides a tool called Poll, which will let me ask the students multiple choice questions on topics that I cover. Based on the percentage of students who get the answer right, I know how well I have covered that topic. It's a powerful tool, which I plan to use when I am back in the classroom (I know there have been other tools that do the same trick, but I was not aware of any that were free for the students). Students are taking quizzes on D2L after each chapter and submitting their assignments on D2L. Students who have authorization from the IUP Department for Disability Access and Advising get 1.5 times the time allotted for the graded activities on D2L.
Attendance on my Zoom sessions has been between 85-90 percent, which is typical of my regular class. Seventy percent of the class has not missed a single class in the five weeks, and there have been very few students who have not attended classes because of technical problems (no power, no Internet, etc.) or COVID-19-related issues. I constantly ask my students on email and Zoom if everything is okay with them and to contact me directly for any accommodations they may need.
I did have one student who wrote to me several days back that they were not feeling well and would be getting tested and provide the documentation. I wished that student the very bes,t and I will provide any accommodation that they would need if they end up having any issues. Empathy and compassion are more critical today than ever in our noble and blessed profession.
In India, the first-year MBA students were on a mandatory internship period in March and April, which obviously got disrupted and students were stuck at home for nearly two months. I am heartened to report that four faculty colleagues and more than a dozen alumni answered my call to conduct Zoom sessions on topics of practical interest to MBA students that may not be covered in the regular curriculum. Topics such as project management (PMP) certification, ERP applications and career opportunities, LinkedIn-based job-search, advantages and challenges of being an entrepreneur, treasury and capital market securitization, emotional intelligence, leadership/learning/change-management, etc. are being addressed daily at 8:00 a.m. Eastern Time and 5:30 p.m. Indian Time!
In both the off-shore programs in India and in the West Bank, we will be offering for-credit classes using Zoom from May to August. We hope that a certain level of normalcy would be restored in the fall for students to arrive in the US for the second year of their MBA program. I hope to be a "POW" (professor-on-wheels) again, as some of my friends tease me for the ~100,000 miles I put each year traveling to IUP's partner locations in Asia, Europe, the Middle East, and other regions of the world. I also can't wait to wear my coat-and-tie and lecture/interact in person with all my students!
My students at IUP are getting ready for the last week of classes followed by the final exam week. I feel that the best part of Zoom classes in the last five weeks has been the interaction with my students. When I wished my class "good morning" earlier in the auditorium, I used to get a feeble reply back from the few students in the front rows; however, now, I get a resounding "good morning" reply by voice and, in addition, many more "good morning" wishes on the Zoom chat. Thank you!
This crisis hopefully will teach us all to be kinder to each other since this microbe has demonstrated that none of the differences of race, ethnicity, gender, sexual orientation, religion, nationality, profession, position, power, fame, etc. matter.