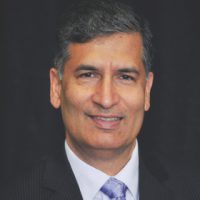 Dr. Ramesh G. Soni
Chairperson; Professor, Management Department
Ph.D., University of Texas–Arlington
M.S., University of Texas–Arlington
B.Tech., Indian Institute of Technology – New Delhi
Dr. Soni primarily teaches Operations Management, Quality Management, and Supply Chain Management. In addition, he has taught Executives (MBA) and undergraduate students in the area of quantitative methods and business statistics, and has taught finance to engineers.
Dr. Soni has an extensive and diversified portfolio of scholarly activities. He has published more than a dozen refereed journal articles that have appeared in journals such as Journal of Collective Negotiations in the Public Sector, Journal of Applied Management and Entrepreneurship, Journal of Educational Leadership, International Journal of Commerce and Management, International Journal of Management, etc. In addition, he has published two chapters that have appeared in highly acclaimed research books. Dr. Soni has presented over 60 papers at international, national and regional conferences. Notably, two of his presentations were at the very highly selective and prestigious conferences of Institute of Industrial Engineers (IIE). Dr. Soni is has served as the Editor for the Journal of Business and Information Technology (JBIT). In addition, he has been a reviewer for several academic journals and conferences. Dr. Soni (along with his colleague Dr. Bharadwaj) received a $47,000 grant from the Center of Rural Pennsylvania to study E-Commerce activities, infrastructure and perceptions among small businesses.
In addition to providing consulting services to large businesses, Dr. Soni has been very active in providing pro bono services to small businesses in the western Pennsylvania through the Small Business Institute and Management Services Group. One of his supervised SBI student projects won a 2nd place national (USA) award.
Dr. Soni has traveled widely—17 different countries in four continents, mostly as a presenter at various international conferences. Also, he has spent some time at IUP's international partner universities in Nancy, France and Dhaka, Bangladesh delivering seminars and full-fledged graduate courses.