Eberly's Flourishing Indian Outpost
Posted by

Categories

News

Date

December 28, 2018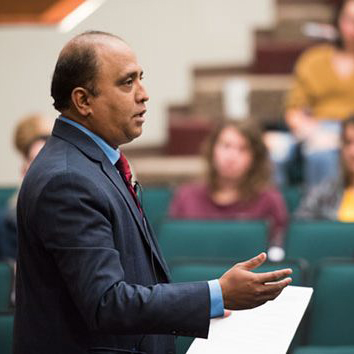 IUP and India, separated by some 8,500 miles, are actually closer than a glance at a globe might indicate. Prashanth Bharadwaj has seen to that.
He has, in a sense, shrunk the planet.
Bharadwaj, dean's associate and professor in the Eberly College of Business and Information Technology, coordinates the International Business Program, which through a partnership with PES University in Bangalore has sent IUP faculty members to India and brought Indian students to IUP.
MBA hopefuls in India work toward their IUP degree at PES for a year and then have the option of coming to the United States to complete their studies. Despite the daunting distance involved—and a somewhat shaky beginning—the program has flourished.
"We have graduated over 1,000 students now," said Bharadwaj, himself a native of Bangalore, a city of 12.3 million. "[At first] there was a lot of skepticism among prospective students and parents in India, because we said we are going to have American faculty come here and teach, and you'll have the ability to come in the second year to the US if you choose to, and you will get an MBA from IUP. But when we delivered on every promise we had made, we went from 20 students the first year to 96 the next, and we haven't looked back."
In the fall semester, 85 Indians studied at IUP through the program. Since it launched in 2005, 38 IUP faculty members have traveled to Bangalore. Such exchanges are part of Dean Robert Camp's vision to raise the university's profile abroad.
"We want to have a global footprint," Camp said. "This program has been great for the school, great for the faculty, and it pays dividends to the students here on campus who get a lot out of it by being in a cross-cultural environment."
Bharadwaj jokes that his goal is to make IUP an acronym for International University of Pennsylvania. Fact is, mention of the school's name elicits a knowing nod from many in his hometown.
"The visa officers in the US consulate in India know IUP and the IUP-PES program so well now," said Bharadwaj, who received an award for excellence in education from the Global Organization of People of Indian Origin in June. "I tease my colleagues on campus that IUP is as well-known in Bangalore as it is in western Pennsylvania. It's a household name."
Success will do that. Ask Bharadwaj about Indian graduates of the MBA program, and he beams like a proud parent. They are employed in a wide range of fields: information technology, the automotive industry, finance and banking, and manufacturing.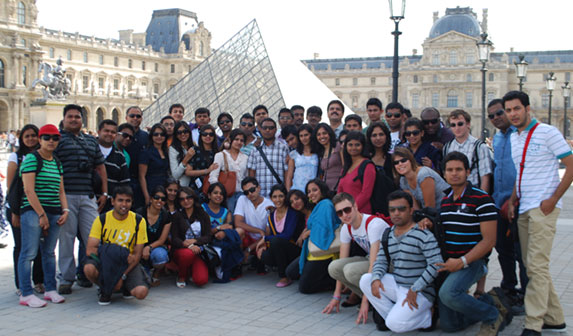 As part of the European Symposium, students visit the Louvre in Paris. Photo courtesy of Prashanth Bharadwaj.
"We have alumni working at Google and Apple, BMW North America and Fiat Chrysler, JP Morgan Chase and Citi, Caterpillar and GE," he said. "I can rattle off any industry, and we have graduates there. And they're all doing well."
Many of them credit the International Business Program for their professional success.
"It gave me such a strong foundation and the skills that I needed to be where I am today," said Shilpa Sundaram, a native of Ballari, India, who earned her MBA in 2007. Now working in California's Silicon Valley, she is a program manager for supply chain operations at Juniper Networks, which develops and markets networking products. "I learned there was so much I could do with an MBA beyond just management. You could do finance, you could do marketing, you could get into operations. The program helped me think about where I truly wanted to go with my career."
Bharadwaj directs another successful program, but in this case traffic flows in the opposite direction, from IUP to India. Since 2008, he has taken about 200 American business students to his country over winter break through Discover India, a two-week study-abroad program. They visit a number of companies to gain an understanding of their management philosophies and manufacturing practices, but time is also reserved to visit attractions like the Taj Mahal, learn about the history and culture of India, and interact with Indian students.
Sarah Scruppi, a senior from Imperial, journeyed to India in January and came back a different person.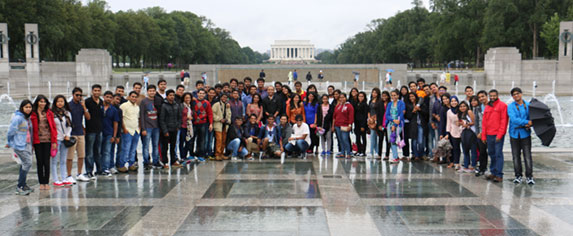 While in the US, International Business Program students tour cities like Washington, DC. Photo courtesy of Prashanth Bharadwaj.
"It changed my life," said Scruppi, who has a job lined up in purchasing with US Steel in Pittsburgh. "I was very hesitant to go on the trip, and I lost sleep for two, three months leading up to it. But from the moment we landed in India, I just felt so at home and welcomed. We were constantly exposed to new opportunities, new cultural ideas, new faces. It was an incredible, unforgettable experience."
Bharadwaj oversees two similar programs—Discover Norway and the European Symposium, which focuses mainly on France and Germany—and also directs the Global Academy of Business Leadership, which brings international business students to IUP for five weeks every summer.
In addition, he coordinates a second offshore program similar to the one in India, based in Palestine. Eyebrows invariably raise when Bharadwaj speaks of the site in the West Bank territory, where conflict is a way of life. But he is quick to point out that the Arab American University campus in Ramallah is "unimaginably safe and secure" and rivals IUP's in many respects.
"When Dean Camp and I went there, we were shocked," Bharadwaj said. "We were thinking it would be some run-down, small place. You wouldn't believe it—it was as good as IUP as far as infrastructure. And it's about the size of IUP, about 12,000 students."
Approximately 200 Palestinians have enrolled in the International Business Program since the partnership was established in 2013; 27 IUP faculty members have gone there to teach. As in India, the program is prospering.
"It's amazing what's been accomplished with these programs," Camp said. "I'm thrilled. We're fortunate that we've got highly capable faculty. And Prashanth—his execution of the plan has just been extraordinary. He has played the key role in all of our offshore activities."
Bharadwaj credits Camp and Associate Dean Cyndy Stewart Strittmatter '83, M'87, as well as Jawahar Doreswamy, PES University president, and Divyashree Ravishankar M'11, associate director of the IUP-India Management Program at PES, for their critical support and leadership.
Given the success of the programs in India and Palestine, the addition of more overseas sites seems as inevitable as tomorrow's sunrise.
"China's a possibility," Camp said. "We certainly would like to have a connection to Latin America. And we've been having dialogue for some time now with a school in France. So, there are lots of possibilities out there."
And to think there once were doubts the International Business Program would even survive its first year. Could Bharadwaj have imagined back in 2005 that it would ultimately thrive, bringing countries—and students—half a world apart closer together?
"Not in my dreams," he said. "I thought it would be a good experiment, but I never thought it would involve thousands of students. It has met all the major aspects of a university's mission, across the board—teaching, research, service, and cross-cultural immersion—in a fiscally responsible and beneficial way.
"My greatest satisfaction has been that these programs have brought together hundreds of young people from different countries and cultures and made them realize that, irrespective of the difference in their race, religion, and backgrounds, their hopes and dreams are the same at the core."
Worldwide, University-Wide
In addition to its International Business Program partnerships, IUP has student-exchange and study-abroad agreements with more than 70 universities in 30 countries. Among the newest partner institutions are the University of Haifa in Israel, Nagasaki University in Japan, Universidad de Cienfuegos in Cuba, State Islamic University of North Sumatra in Indonesia, the University of Trinidad and Tobago, and Pontificia Universidad Catolica de Valparaiso in Chile. More information is at the International Programs website.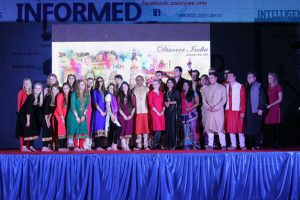 During Cultural Evening, a part of the Discover India program, American IUP students dressed in traditional Indian attire. (Courtesy of Prashanth Bharadwaj)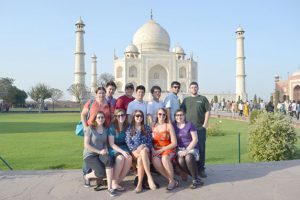 During the Discover India program, American IUP students visit cultural sites like the Taj Mahal. (Courtesy of Prashanth Bharadwaj)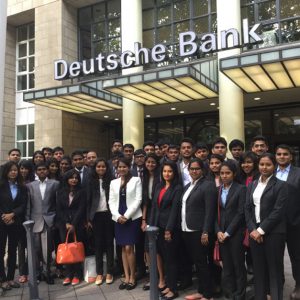 As part of the European Symposium, Eberly students spend time at businesses such as Germany's Deutsche Bank. (Courtesy of Prashanth Bharadwaj)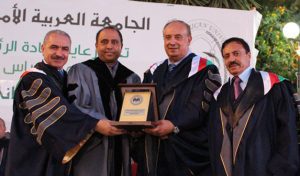 In addition to its program in India, IUP's Eberly College of Business and Information Technology offers a second offshore program in Palestine. Prashanth Bharadwaj, second from left, joined officials from the Arab American University campus in Jenin at the school's graduation ceremony. (Courtesy of Prashanth Bharadwaj)