The masked giver – IUP alumnus supports shelters, students, protesters and others
Posted by

Categories

News

Date

August 19, 2020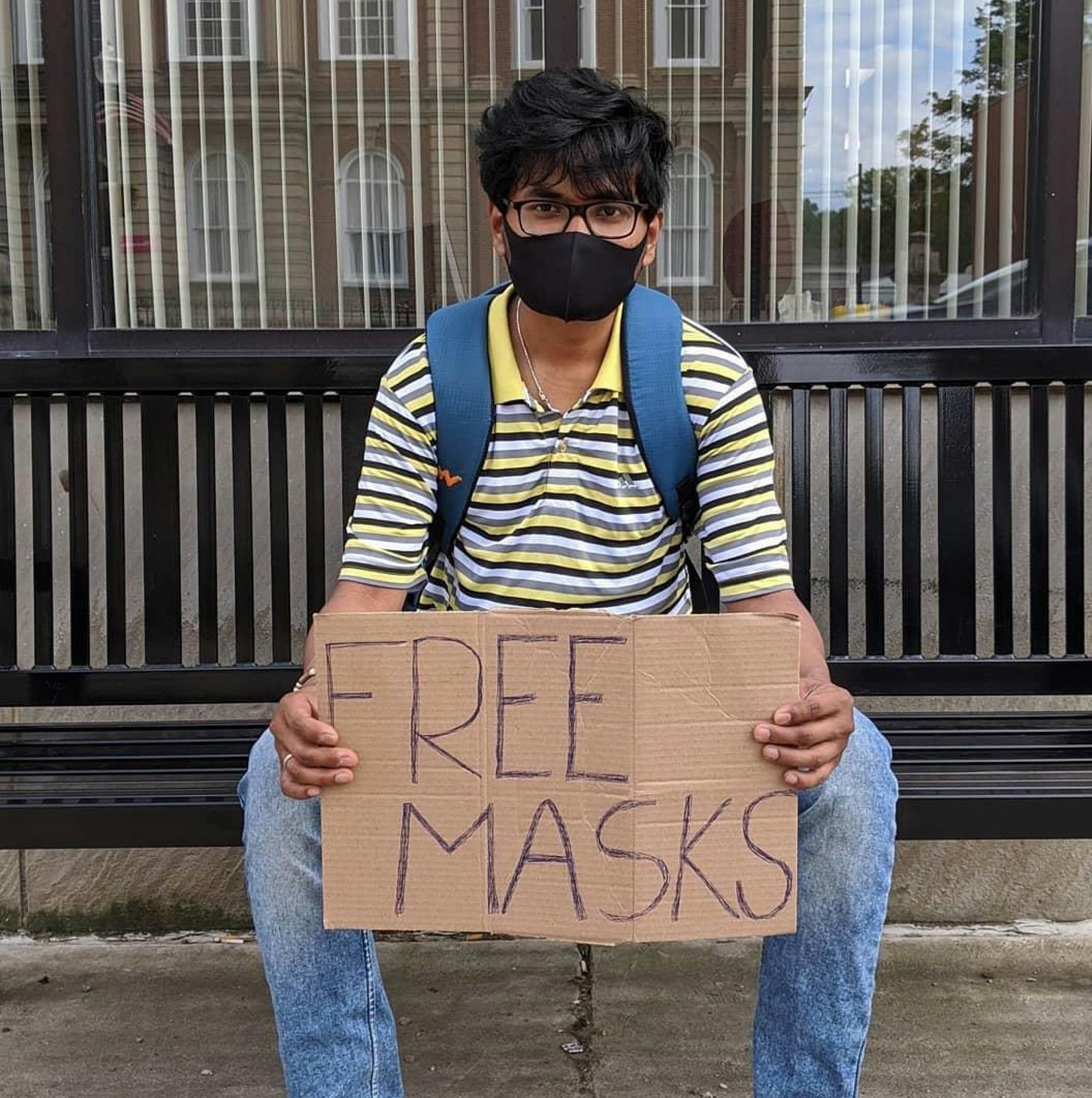 In place of a birthday gift, social media users sometimes ask friends to donate to causes they're passionate about. Sanketh Yalamuri Sathyanarayan, 25, did that on his birthday, Oct. 14, and it sparked a much bigger effort.
So far, the native of Bangalore, India, has donated over 600 masks to students, protesters and others across the country, including 100 masks to his alma mater, Indiana University of Pennsylvania.
The 2019 graduate, who still lives in Indiana, Pa., said he didn't get much in his birthday fundraiser, but it inspired him to try again. He raised $300 for Four Footed Friends and the Indiana County Humane Society, an animal rescue and shelter, to help buy pet food during the COVID-19 pandemic. He knew he could do more.
"What I was doing was very little. There were so many people who were suffering, and I wanted my next social cause to be something that could make an impact for a lot of people," he said.
He had heard that international students at IUP who lost on-campus jobs during the pandemic couldn't afford to buy masks. He got eight companies from around the country to donate 400 masks and bought more with $200 of his own money and $160 in donations to his new Masks for Everyone website, wishboard.co. Donors can give $3 for one mask, $10 for masks for a family and $25 to give masks to homeless people. Donations are used to buy masks and ship them around the country, he said.
With the help of his friend Chaitanya Shastry, also from Bangalore, India, he shipped masks to people in 15 cities, including Detroit, New York and Las Vegas. He encouraged friends there to hand out masks at their cities' protests over police brutality and the death of George Floyd in Minneapolis.
Mr. Yalamuri Sathyanarayan has run a snack subscription business, designed and sold socks and started an online community where people could barter their skills. In his free time, he said he walks around downtown Indiana and sometimes sits at local bus stops with a sign that reads: "Free masks."
Once face masks are no longer necessary, he hopes to take on an even bigger cause: alleviating poverty.
"I want to make WishBoard better by taking it to an international level," he said. "My main focus would be food, education and shelter for those in poverty."